Kleinburg
, a small village nestled inside the city of Vaughan, Ontario, attracts people with its historic streets and intimate community. The village, established in 1848, is hugged by two sections of the Humber River and is just a 15-minute drive to the Toronto Pearson International Airport.
Kleinburg residents enjoy outdoor recreation, local boutiques, stress-soothing spas, art galleries, and restaurants, all within proximity to their homes. And while Kleinburg may feel like a remote destination, it's close to highways 27, 401, 407, as well as many public transit options, making travel quick and easy.


In recent years, affluent buyers have flocked to the area looking for their next high-end property. If you're in the market for Kleinburg real estate, there are a few important things to keep in mind. Below is an inside look.
Available properties
Kleinburg is 1.05 square kilometers — small enough to limit the types and number of homes built in the area. Heritage homes and modern houses make up most of the area's residences.


Roughly 80 percent of the home sales in Kleinburg are detached homes. Detached homes are spacious and offer privacy and the freedom to do what you want without first consulting with a homeowners association. While the majority of the sales are two-bedroom homes, at the moment, there are more four-bedroom homes on the market. Last year, the average price for a detached four-bedroom home in Kleinburg was $2 million, and this year, that price tag has jumped to $2.5 million.


There are townhomes and condos for sale in Kleinburg as well but in lesser numbers.
Current trends
Buyers who recently purchased homes in the Kleinburg area spent an
average of $2.3 million on their homes
. This is to their advantage. The projected rate of change per month is heading upward to 2.9%, with a projected yearly change of 15.5%.
It's safe to say the market won't be taking a dip, even if homes begin to sell a little slower. Homes are on the market for about 8 to 19 days (on the price tag). Last year, homes spent about 15 to 45 days on the market.


With limited inventory, buyers have been willing to scoop up whatever they can get their hands on. However, inventory is slowly trending up this year, with home sales keeping a steady pace alongside the increase.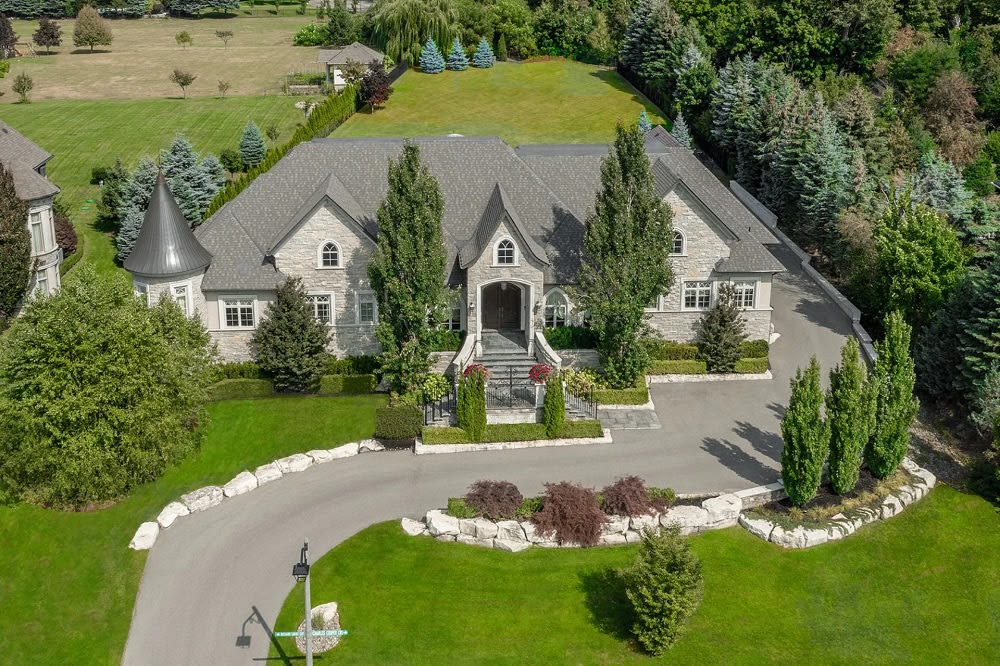 The reasonable mortgage rates are partially responsible for the current rate at which people are buying homes. A variable three-year mortgage can see rates as low as 0.99%. On the higher end, rates can jump to 3.45 for a five-year fixed mortgage. That said, rates are expected to go up this year, making home affordability difficult for lower earners and potentially slowing the rate at which higher-priced homes sell.
Sellers' market
When 2021 saw record numbers for home sales, home prices, and low inventory, there was uncertainty around how long the sellers' market would last. After Canadians began to feel the effects of the pandemic and spent an increasing amount of time inside their homes, their perspectives on what they value in a home shifted.


From 2019 to 2020, the annual rate homes appreciated increased from 1.5 percent to 9.4 percent. From 2020 to 2021, the rate jumped from 9.4 percent to 17.8 percent. The longer people were cooped up inside their homes, the more eager they were to find spaces better suited to their daily activities and goals.


Buyers were willing to spend more on new homes and homes with a lot of space. Nearly 70 percent of homes sold went above the asking price, reflecting a shift in people's readiness to pay more for better spaces.

While 2022 will probably remain a sellers' market, the market could cool as mortgage rates continue to increase.
The luxury market
Throughout 2021, the luxury real estate market drifted away from the Multiple Listing Service (MLS) and toward more exclusive sites and marketing platforms. The need for exclusivity became more valuable.


What makes a Kleinburg luxury property, anyway? Buyers measure properties against others across the globe. They consider a property's layout, design, and aesthetic, including the materials. Can the property provide a high-quality lifestyle? Does it feel like a luxury property? Buyers will continue to demand more from the luxury housing market in 2022.
Your home search essentials
With the market as hot as it is, it's advantageous to work with a real estate agent who knows what's happening in the local market day in and day out. When you work with a knowledgeable agent, you'll be the first to know when the perfect home becomes available, possibly before it even hits the market.

Turn to trusted Toronto real estate agent Janice Williams to guide you through the Kleinburg real estate market. Janice has an extensive luxury real estate portfolio, including Kleinburg, Northumberland, and King.
Contact Janice today
to find out everything she and her team can accomplish for you on your next home purchase.